For the last five months, orders of grilled chicken have zipped through the skies of Costa Mesa.
In June, restaurant chain El Pollo Loco launched a drone delivery program in the city of about 113,000, which also serves as the site for its corporate headquarters. While other companies have piloted drone programs that deliver to pickup sites, El Pollo Loco was aiming to become one of the first to deliver food to backyards.
Their delivery drones ascend to about 200 feet, and lower chicken deliveries using an 80-foot wire to people's homes.
From the perspective of Andy Rebhun, the vice president of digital at El Pollo Loco, the company has had "an unprecedented" amount of customer interest in the service, measured by new signups to the company's drone delivery landing page, airloco.com. Rebhun wouldn't disclose the number of completed drone deliveries or how many people have signed up for the program, but said the latter was a "six-figure number."
"Once we shared the story of our first deliveries, it got massive interest on all our social media channels and several videos had over a million organic views," he said.
The arrangement is likely to become more common in the coming years.
El Pollo Loco is far from the only company to dive into the world of drone delivery. Last week Walmart announced the launch of a drone delivery pilot program in Farmington, Arkansas.
El Pollo Loco's program is run in partnership with Flytrex, an Israeli drone delivery startup that in November raised $40 million in Series C funding. Other companies have started to run pilot programs featuring the company's drone tech, too. Some Brinker International restaurants like Chili's, It's Just Wings and Maggiano's Little Italy piloted drone programs with Flytrex in North Carolina.
Across all of those programs, Flytrex CEO and co-founder Yariv Bash said the company has completed "thousands of deliveries," the bulk of which have come in the past few months (the company claims to be doing 10 times more deliveries now than it was doing at the beginning of 2021).
So far, Bash said "thousands" of people have registered for Flytrex's delivery app – though most of their homes aren't in range to receive drone deliveries, he said. But those who are in range tend to be repeat customers, which accounts for the number of deliveries.
"So far, more than 50% of people who have registered use three deliveries or more. It's pretty viral – people really love it," he said.
Just 2% of restaurants use drone delivery, though 10% appear to be interested in incorporating them, the report found. But there does seem to be some interest in drone delivery from consumers: 38% of consumers expressed interest in the service.
However, drone delivery isn't always well-received. A drone delivery program run by Wing (Alphabet's drone delivery company) in Canberra, Australia led to noise complaints in 2018. An Australian government analysis also upheld that the drones were breaking the neighborhood's noise standards of 45 decibels, and had a "particular pitch" that is more noticeable. Wing has since debuted a quieter drone.
There are concerns in the U.S., too. In one U.S.-based survey of 801 phone interviews run by the public affairs company the Hawthorne Group, 51% of consumers supported neighborhood drone deliveries. But, 48% were still "somewhat concerned" about safety, and 71% were concerned about privacy.
That said, some U.S. communities with drone delivery programs are reporting positive results. A study conducted by scientists at Virginia Tech, for example, found that 87% of surveyed residents had positive feelings towards drone delivery programs. During the pandemic, the study found that positive feelings increased in 58% of residents.
The authors of that study suggested that opinions of drone delivery may be higher in communities that experience it (though that hasn't necessarily been the case in Australia).
As for restaurants, Ann Golladay, an associate director at Datassential, said that once people experience new technology, attitudes also tend to change in positive ways.
"We've found in our research that consumers are generally opposed to new technology until they use it, and then satisfaction is high and it is well-loved," Golladay, told dot.LA.
The pandemic, she adds, has only made consumers more open to new forms of technology in restaurants.
The Costa Mesa City Council, a host city for the El Pollo Loco drone project, did not return multiple requests for comment for this story. But Aaron Levitt, the principal engineer in the town of Holly Springs, North Carolina, which just introduced a similar Flytrex restaurant delivery program, did note that residents have been receptive.
"We did have a lot of reactions. The majority were very positive and very excited," he told dot.LA.
Holly Springs has earned membership in an FAA pilot program aimed to facilitate drone programs. Flytrex is running drone deliveries through a launch station at a nearby shopping center; restaurants simply drop off orders at the launch station, and the drone takes it from there.
Building community trust in a drone project came down to two large factors: noise and privacy.
"The typical response you would get from the people that were not really so sure or who were negative about it was: they're going to be spying on me," said Levitt. "And as soon as you say there's no cameras on the drones, everyone just relaxes." (Flytrex drones do not have any cameras, a spokesperson confirmed.)
As for noise, Levitt requested that Flytrex run specific tests to ensure that the drones wouldn't become excessively loud. The results of those tests showed the drone is about 66 decibels loud during active delivery, about as loud as a normal conversation or an active office. It's 55 decibels loud while flying overhead en route to delivery – as loud as a household refrigerator.
Levitt's hope for drone deliveries is that they can eventually make deliveries to workers at a nearby business park, who are looking for nearby food options. He also sees it as a perk that may excite other large companies like Amgen, who is building a facility in Holly Springs, to come to town. He also hoped drones would become useful for small businesses close to the launch site – though those partnerships have yet to materialize.
"Maybe a mom-and-pop sort of restaurant could use Flytrex as a delivery option. Eventually, I think that's going to be a real thing, where any of those restaurants in that area could utilize them as delivery and you know, maybe help grow a business," he said.
Ultimately, drone delivery still has a long way to go to live up to the hype surrounding it. But so far, enthusiasm appears high. Rebhun, for one, said drones are "absolutely" part of El Pollo Loco's strategy going forward, though they are still evaluating the program.
"We have no reason not to welcome the technology as a more permanent part of business," he said.
At the age of 16, Sophia Rascoff is one of the youngest entrepreneurs to launch a social media app. Her love for cooking and food inspired Recon Foods, an app that brings food lovers together.
On this episode of PCH Driven, Rascoff discusses being a co-founder of the app Recon Foods and how Gen Z is changing social media.
During the holiday season, Rascoff and her family make traditional Colombian dishes, including a caldo (a broth-based dish) she grew up on that her grandmother passed down to her mom.
Experiences like that, along with her love for food, gave Rascoff the idea to create an app.
"Recon Food is a vertical social media network for food. So, we aim to create a community where people can bond over a shared love of food," said Rascoff.
With features like adding recipes alongside posts or seeing the restaurants where other users have been, Rascoff wanted to lean into making the community accessible.
When joining the app, it automatically prompts the user to follow Rascoff's account. But, she says, it's not designed so that she can gain followers.
"It was to really set the bar for the app. So, we wanted to show people anyone can post on here. It's not for chefs, it's for people who like food and think it's kind of fun sometimes," said Rascoff.
Growing up around other entrepreneurs like her father, former Zillow executive and dot.LA co-founder Spencer Rascoff, the young co-founder believes passion is one of the most important things when it comes to starting a company. For other young entrepreneurs, that's the advice she would offer.
"Find something that you're really passionate about. I've heard a lot that there are no good founders, there's only a good founder for a good problem," said Rascoff.
In the rest of the episode, Rascoff talks about entrepreneurship, the value of intrapreneurship and how a "post-heroic" leadership approach can create more collaborative team. Oh, and we also talk a lot about food.
Click the playhead above to hear the full conversation, and subscribe to PCH Driven on Apple, Stitcher, Spotify, iHeart, Google or wherever you get your podcasts.
dot.LA Engagement Intern Joshua Letona contributed to this post.
Netflix's newest gaming studio started more than seven years ago when Sean Krankel got laid off from Disney.
Krankel worked in design at Disney Interactive and Vivendi Universal Games. While his cousin and friend Adam Hines wrote at the storied adventure game developer Telltale Games on projects like "The Wolf Among Us" and "Tales from the Borderlands."
Both were looking for something new, and when Krankel lost his job, they decided to create Night School, a Glendale-based studio that would try to do things with storytelling that other studios hadn't.
Krankel took on the role of CEO, while Hines became creative director. They brought in gaming veterans Heather Gross as the art lead and Bryant Cannon as lead developer.
The through-line for Night School is story: elevating player choice in much the same way the studios they share a lineage with did. The studio puts the focus on the messy, complicated and overlapping ways a story is communicated through dialogue, whether between unique quirky characters, or occasionally, the game and the player themselves. That also extends to how the studio's team members work with each other to this day. The approach attracted Netflix, which acquired them for an undisclosed amount in September.
Neither Krankel nor the other staff members contacted for this piece could go into detail about Night School's new position at Netflix either. But the move hasn't changed their conversational dynamic. "People should constantly be talking," Krankel said. "If you think you're talking too much: you're still not talking enough."
That dialogue-first philosophy was evident in Night School's first game, 2016's "Oxenfree." A supernatural thriller set on a local tourist trap island, "Oxenfree" makes good on Hines and Krankel's early ideas by featuring a near-constant stream of conversation. You play Alex, a teenage girl trying to adapt to big changes in her life. What's supposed to be one night of teenage mischief turns into an increasingly unsettling series of encounters with ghosts trying to communicate from beyond. The main crux of the game, aside from solving puzzles with a handheld radio, is navigating conversations from the thousands upon thousands of words Hines wrote for the game's script. You choose one of three possible text bubbles at junctures in each conversation, slightly adjusting the story as it goes along.

The biggest challenge making that happen, according to Krankel, was "building the tools that would empower our designers to make the game while we were making the game." Communication became key (along with proper documentation of all the design decisions that were made).
"Oxenfree," available on Windows, MacOS, Xbox One and Nintendo Switch, was a surprise hit. Night School declined to share current sales numbers, but previously announced that the game had sold 1.5 million copies between 2016 and 2019. "Oxenfree" also cleaned up with the critics and the studio's peers, winning "Excellence in Visual Art" at the Independent Games Festival Awards in 2016, and scoring a nomination for "Best Debut" and "Best Narrative" at the Game Developers Choice Awards in 2017.
"Oxenfree is a smartly written coming-of-age mystery that holds promise for the future of dialogue-as-game." Polygon wrote when they named the game one of the best of the last decade. That promise has borne out.
Night School Studio has since grown to 24 full-time employees and released four games, with a fifth on the way. And things could soon get even more busy: In September, Netflix announced it had acquired the company, marking the streaming giant's first foray into gaming.
The studio has "a track record of successful development and in-house skills" that likely attracted Netflix, said Piers Harding-Rolls, game industry research director at Ampere Analysis.
"The deep narrative and graphical adventure nature of Oxenfree could translate well to video," he said.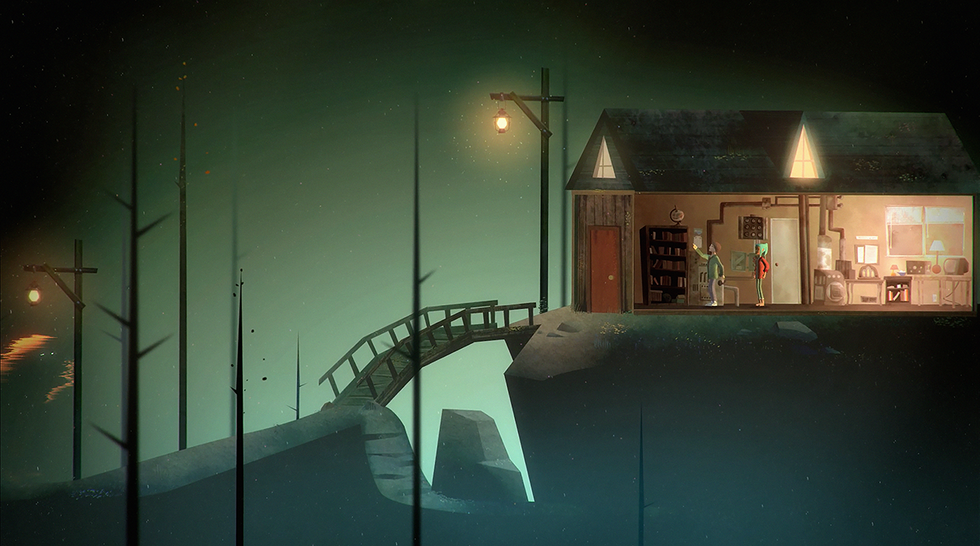 In some ways, the Netflix deal might have been born out of Night School's relationship with another TV giant.
The immediate follow-up to "Oxenfree," "Mr. Robot: 1.51exfiltrati0n," also came out in 2016. A mobile game adapted from USA Network's hit hacker drama, "Mr. Robot: 1.51exfiltrati0n" places the player into the story, rather than having them play as someone else. Using a fake phone operating system and messaging app, Night School adapted earlier ideas it had for a dating game to tell a story asynchronously across multiple days in the lead-up to the world-altering hack that happens at the end of "Mr. Robot"'s first season. The game is a departure from the studio's style, but in a way, an even better example of its idea about conversation and dialogue — without a dynamic art style, having intriguing conversations became the whole game.
"Mr. Robot: 1.51exfiltrati0n" allowed Night School to collaborate with the show's creator Sam Esmail, and brought the studio in contact with Hines' former employer, Telltale Games. Night School reportedly worked on a companion "Stranger Things" mobile game to accompany Telltale's own project in the years that followed. In the arrangement, Telltale acted as both publisher and liaison between Night School and Netflix. When Telltale Games went under in 2018, Night School's work with Netflix's hit show ended. Still, both the "Mr. Robot" and "Stranger Things" projects proved that the studio was able to work with existing properties.
It may have also put Night School on Netflix's radar. Krankel contends that Night School was in conversation with Netflix about various projects six or seven months before the Netflix deal came about. "I don't even know if they knew that we were making a Stranger Things game," Krankel told "Game Informer" following the acquisition.
Serendipity or not, the match makes sense. Netflix and Night School have some important opinions in common. Existing interactive Netflix projects like "Bandersnatch" or even "Minecraft: Story Mode" (a Telltale game playable on Netflix) put the focus on player choice. Night School has also produced plenty of world-building right within the wheelhouse of Netflix's most popular genre properties. An interest in the supernatural and the interior lives of young adults are just two reasons why the creators of "Oxenfree" might have felt comfortable making a "Stranger Things" game (and maybe making another one again down the road).
Night School announced its current project in April 2021. The studio plans to return to the game it made its name on with a sequel called "Oxenfree II: Lost Signals." The follow-up focuses on an entirely new set of characters, loosely tied to the first, and carries over the distinctive walk-and-talk dialogue and radio mechanics.
Whether "Oxenfree II" eventually shows up as part of Netflix Games – free playable mobile games available with just a Netflix subscription, managed inside the Netflix app –– remains to be seen. Night School has developed for mobile before and even released console titles like "Oxenfree" on iOS. (Netflix did not respond to a request for comment on its plans for Night School, or the studio's existing titles.)
In the short term, Night School's community director Sara Hebert says development is continuing on "Oxenfree II" uninterrupted, just as Night School promised when both companies announced they were joining forces. "Everything is indeed so new and it's only been a few short weeks," Hebert shared via email. "Day-to-day, our studio remains focused on creating great games and maintaining our studio culture."
Ultimately, working with Netflix is an opportunity for a small studio to get its games in front of the streaming service's millions of subscribers. Netflix offers "an unprecedented canvas to create and deliver excellent entertainment to millions of people," Krankel said in his announcement of the acquisition. Now Night School just has to keep building.

Samson Amore is a reporter for dot.LA. He previously covered technology and entertainment for TheWrap and reported on the SoCal startup scene for the Los Angeles Business Journal. Samson is also a proud member of the Transgender Journalists Association. Send tips or pitches to samsonamore@dot.la and find him on Twitter at @Samsonamore. Pronouns: he/him
Qai Qai the baby doll made her debut on social media in August 2018. Dressed in a tutu, the doll is pictured courtside cheering at Serena Williams' tennis matches, taking calls in a car with Gayle King, and reading Beyonce's book "Lemonade" — and she has over 350,000 followers on Instagram.
Now, Olympic gold medalist and the best female tennis player in the world Serena Williams has written a children's book about her.
"The Adventures of Qai Qai" is a kid's book written by Williams, published by Macmillan and co-created with Invisible Universe, a Los Angeles-based startup that's looking to create the next hit cartoon character on social media and become "the Pixar of social media."
Qai Qai is a digital character based on a doll owned by Williams and Reddit co-founder Alexis Ohanians' four-year old daughter, Alexis Olympia Ohanian Jr. But the digital avatar was created by Invisible Universe.
To go along with Qai Qai's debut in the tangible world (the book is set to be released in September 2022), the company also helped Williams create a doll that will be sold on Amazon.
Invisible Universe is one relatively new entrant into the rapidly crowding field of digital avatars and virtual influencers like Qai Qai.
Dapper Collectives (formerly known as Brud) runs social accounts for Lil' Miquela, a virtual influencer with 3.1 million followers and is said at dot.LA's recent fall Summit it's looking to expand her reach into TV and other forms of interactive storytelling. Another similar company is Genies, which is making digital avatars for celebrities that can follow them across different social media platforms.
"Our belief is that the power of incubating IP on social media allows us to test things and build an audience and community," said Invisible Universe CEO Tricia Biggio "But from there, our mission is absolutely to extend that (intellectual property) and other forms of publishing."
She said part of that is selling the doll on Amazon and eventually creating long-form scripted content.
Biggio was a TV development executive at VH1, Snap and MGM, and she was Invisible Universe's chief creative officer for a year before taking the CEO helm in June.
She believes that creating strong characters that can transcend the boundaries of their scripted content and live online as their own digital personas is the key to getting people to stay engaged with new stories. But unlike studios focused on box offices or streaming, Biggio wants Invisible Universe's content to be on social media first where fans can interact with it all the time.
Biggio said that her co-founder and former Snap executive John Brennan was friends with Williams and Ohanian and developed the idea to create content based on the Qai Qai doll before Invisible Universe even started. They then tapped writers with experience at Hollywood studios to bring the vision to life.
"We've assembled a team of writers, Hollywood writers, who we've convinced to come and do this really experimental thing with us," Biggio said.
Other digital creations by Invisible Universe include the fictional long-lost toys of Dixie D'Amelio's family called Squeaky and Roy and robots for Karli Kloss called Kayda and Kai. The creators are involved in the creation of their digital characters, and Invisible Universe is working on another to-be-announced project with "Friends" star Jennifer Aniston.
Biggio said the company has raised $9 million since its launch.
Dot.LA co-founder Spencer Rascoff is an investor in Invisible Universe, alongside Williams and Aniston, who also acts as an advisor. Actor Will Smith is an investor through his venture fund Dreamers VC, as is the Cassius Family, Seven Seven Six and Initialized Capital.
Correction: An earlier version referred to John Brennan as Johnathan and incorrectly identified Dixie D'Amelio as Charli D'Amelio.
Samson Amore is a reporter for dot.LA. He previously covered technology and entertainment for TheWrap and reported on the SoCal startup scene for the Los Angeles Business Journal. Samson is also a proud member of the Transgender Journalists Association. Send tips or pitches to samsonamore@dot.la and find him on Twitter at @Samsonamore. Pronouns: he/him
© dot.LA All rights reserved