By Tariq Malik published 6 February 22
The drone video captures the launch and landing of SpaceX's NROL-87 mission on Feb. 3.
A stunning new video from SpaceX captures what it's like to watch a rocket launch from mid-air and then witness the booster return to Earth.
The video, captured by a flying SpaceX drone, shows the company's launch of the classified NROL-87 satellite for the U.S. National Reconnaissance Office. The mission lifted off on a Falcon 9 rocket Wednesday (Feb. 2) from Space Launch Complex 4 East at Vandenberg Space Force Base in California.
"Drone shot of today's Falcon 9 launch and landing," SpaceX wrote on Twitter Wednesday after the launch. Cameras on the Falcon 9 first stage captured its entire descent from space to landing.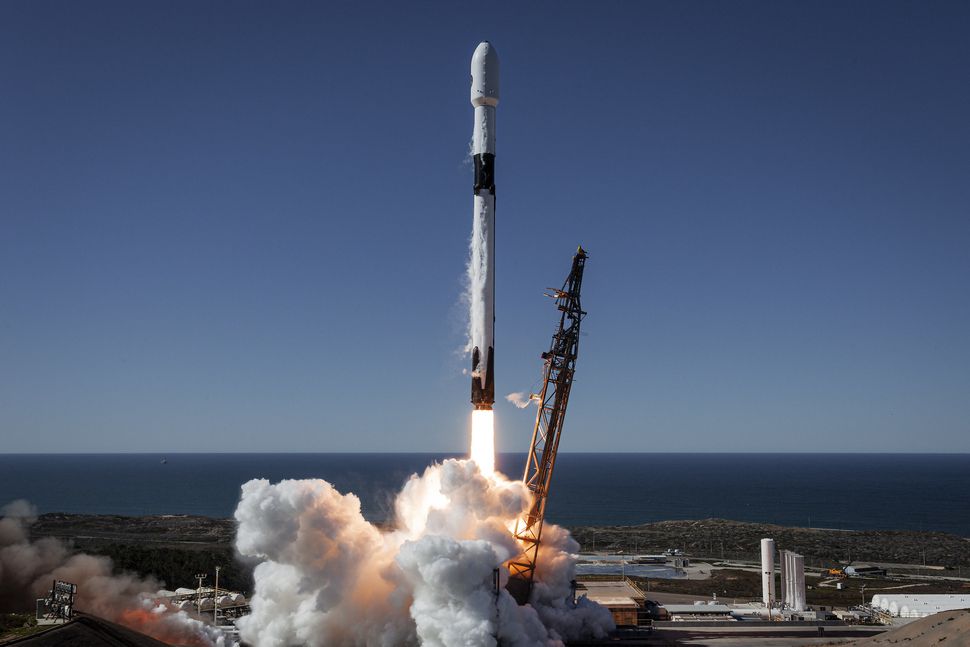 The video's view is amazing. With the drone camera hovering nearby, a brand-new 230-foot Falcon 9 rocket thunders off its pad under the power of its nine first-stage Merlin engines. The rocket soars into a serene, blue sky with the bright sun just off screen.
The video then transitions to the Falcon 9 rocket's first stage landing, which occurred about 8 minutes after the launch itself. Two sonic booms can be heard as the booster, now covered in soot from its launch into space and reentry burn, comes in for a touchdown at SpaceX's Landing Zone 4 at Vandenberg. The blue waters of the Pacific Ocean add a bit of natural beauty to the space engineering feat.
— Declassified US spy satellite photos & designs
— SpaceX: Facts about Elon Musk's private spaceflight company
— The top 10 views of Earth from space
SpaceX's Falcon 9 rockets, like the company's Falcon Heavy and new Starship vehicles, are designed to be reusable to lower the cost of spaceflight. The NROL-87 launch on Wednesday was the second of three Falcon 9 launches that week by SpaceX.
The streak began on Monday (Jan. 31) with SpaceX's launch of the Cosmo-SkyMed Second Generation FM2 (CSG-2) Earth-observation satellite for the Italian Space Agency and the Italian Ministry of Defense. That was followed by the NROL-87 launch on Wednesday, which itself was followed by SpaceX's launch of 49 new Starlink internet satellites on Thursday (Feb. 3).
Unlike the NROL-87 flight, the CSG-2 and Starlink missions launched from different SpaceX pads in Florida. The company used its Space Launch Complex 40 pad at Cape Canaveral Space Force Station to launch the CSG-2 satellite and its nearby Pad 39A site at NASA's Kennedy Space Center — the same one it uses for astronaut launches — to loft the Starlink mission.
Email Tariq Malik at tmalik@space.com or follow him @tariqjmalik. Follow us @Spacedotcom, Facebook and Instagram.
Join our Space Forums to keep talking space on the latest missions, night sky and more! And if you have a news tip, correction or comment, let us know at: community@space.com.
Tariq is the Editor-in-Chief of Space.com and joined the team in 2001, first as an intern and staff writer, and later as an editor. He covers human spaceflight, exploration and space science, as well as skywatching and entertainment. He became Space.com's Managing Editor in 2009 and Editor-in-Chief in 2019. Before joining Space.com, Tariq was a staff reporter for The Los Angeles Times covering education and city beats in La Habra, Fullerton and Huntington Beach. He is also an Eagle Scout (yes, he has the Space Exploration merit badge) and went to Space Camp four times as a kid and a fifth time as an adult. He has journalism degrees from the University of Southern California and New York University. To see his latest project, you can follow Tariq on Twitter.
Get breaking space news and the latest updates on rocket launches, skywatching events and more!
Thank you for signing up to Space. You will receive a verification email shortly.
There was a problem. Please refresh the page and try again.
Space is part of Future US Inc, an international media group and leading digital publisher. Visit our corporate site.
© Future US, Inc. 11 West 42nd Street, 15th Floor, New York, NY 10036.